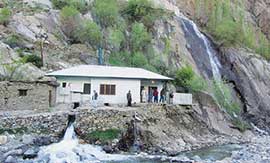 Earthly matters: A bright future
At a two-hour drive rough over broken roads from Chitral town, lies Garam Chashma. This is where hot springs bubble up from deep inside the neighbouring mountains that tower over this sleepy town. The broken roads are due to the recent flooding in the area. On a recent trip to Chitral, organised by the Heinrich Boll Foundation for journalists based in Islamabad, we clambered up to the top of the town to see the source of the hot springs.
The townspeople had erected a water tank at the top and we could see the hot water, which smelled of sulphur, bubbling in the tank. Pipes running down from the tank supply various locations in the town, including the neat and clean hotel we were staying at.