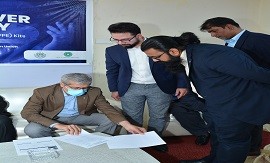 Aga Khan Rural Support Programme (AKRSP) Provides PPE worth PKR16,997,000 to Sindh Government
AKRSP handed over personal protection equipment (PPE) worth PKR 16,997,000 to DG Health Hyderabad Sindh at a ceremony held in Thatta Hospital on December 30, 2021, as a covid response to European Union's AP Asia project. The equipment included 20,000 amplification test, 20,000 manual extraction test, 20,000 VTM with swab, 500,00 surgical masks, 20,000 examination gloves, 10, 000 sanitizer and 5,000 fabric gowns. These PPEs will be utilized in the hospitals of Sindh to curb the new ongoing wave of covid-19.
The handing over ceremony was attended by DG Health Hyderabad, Sindh Mr. Juman, DHO health Thatha, Zahid Memon, Director Centre of Excellence in Women and Child Health, AKU, Dr Syed Asad Ali Professor & Associate Dean Pediatrics & Child Health -Medical College, AKU, along with other highly designated guests.
DG Health, Hyderabad, Sindh, Mr. Juman applauded AKDN's contribution to health and its services during the pandemic. "We appreciate AKDN and its partners in supporting the department of health in its fight against the pandemic. This provision will help our health staff reach out more in the community to offer services against COVID-19" he stated.
Country Director Accelerate Prosperity, Pakistan, Mr. Tariq Zaman, delivered a note of thanks to the guests and lauded European Union for their support. In his speech, he stated, "I would like to extend special thanks to the European Union for the generous funding for the supply of Personal Protective Equipment (PPEs) in COVID-19 to Sindh government." He reiterated AKDN commitment to continue working closely with DG Health department to explore new avenues of collaboration and mutual interest.
In addition to this, AKRSP has been proactively assisting communities during the pandemic in various ways. In the past two years, AKRSP has distributed PPEs and other protective tools such as masks and sanitizers in other parts like Gilgit-Baltistan and Chitral in Pakistan. With the outbreak of the corona pandemic, AKRSP initiated activities in the far-flung communities of Gilgit-Baltistan and Chitral through awareness-raising, vaccination drive, water and sanitation, mental health, and establishing quarantine centers.