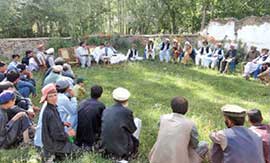 Community mobilisation paying off in Chitral
The flash flood of 2012 had washed away the water supply scheme and 1.5 kilometres link road of the remote Kiyar village of Karimabad valley, but the services were restored the very next week by the local community itself and they did not waste a moment to wait for the government departments.
The community had a pretty sum of money in savings and it just passed a resolution authorising the office-bearers to withdraw the required amount from the bank account of the organisation to restore the facilities. The government released special funds for restoration of the flood-affected infrastructures two years later in 2014.